1. June 4 - Join us at our annual Pollinator Party at Heart Lake Conservation Area
From roughly 10am to 2pm, Saturday June 4th we will gather at Heart Lake Medicine Wheel (Gitigaan Mashkiki) for our third annual medicine wheel maintainance and pollinator planting. This special place in Brampton is a great place to gather and learn about nature and First Nations traditions. Come join us!
All equipment, plants and a snack are provided. Come dressed for the weather. Students can get service hours. Check the website for more details.
2. Sign Petition to Close Pickering...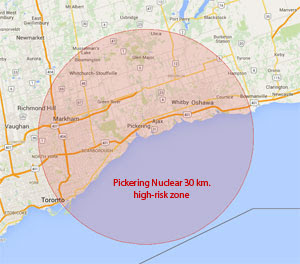 The Pickering Nuclear Station is one of the oldest nuclear stations in the world -- and one of the largest. It is surrounded by more people than any other nuclear station in North America. OPG wants to run the plant until at least 2024, at which time it will be 53-years-old.
The Petition calls on Premier Kathleen Wynne and her government to order that the Pickering Nuclear Station be shut down by

August 31, 2018

when its current operating license expires.
3. Dan's Blog: Honouring Bob Hunter's Legacy - The Robert Hunter Memorial Lecture
Dan McDermott, Sierra Club's Ontario Chapter Director was chosen to speak in a dual presentation with John Bennett at the annual Robert Hunter Memorial Lecture this year. Read Dan's take on Canada's "Environmental Movement, Yesterday, Today and Tomorrow" here...
4. Save the Date: Grey to Green Conference 2016 Addressing Climate Change with Green Infrastructure
June 1-4, 2016 | Department of Architectural Science - Ryerson University
"Green infrastructure employs more than 150,000 people in Ontario alone. It's a proven way to reduce the costs of climate change and allows us to make strategic investments that generate prosperity, new employment opportunities, and improve the health and livability of our cities and regions", said Steven W. Peck, Founder of Green Roofs for Healthy Cities and co-sponsor of the 4th annual green infrastructure conference.
---
Sierra Club Canada Foundation
PO Box 2007 STN B




Ottawa

,

ON

K1P 5W3




Canada
To unsubscribe from these mailings, click here
To opt out of all Sierra Club Canada Foundation mailings click here