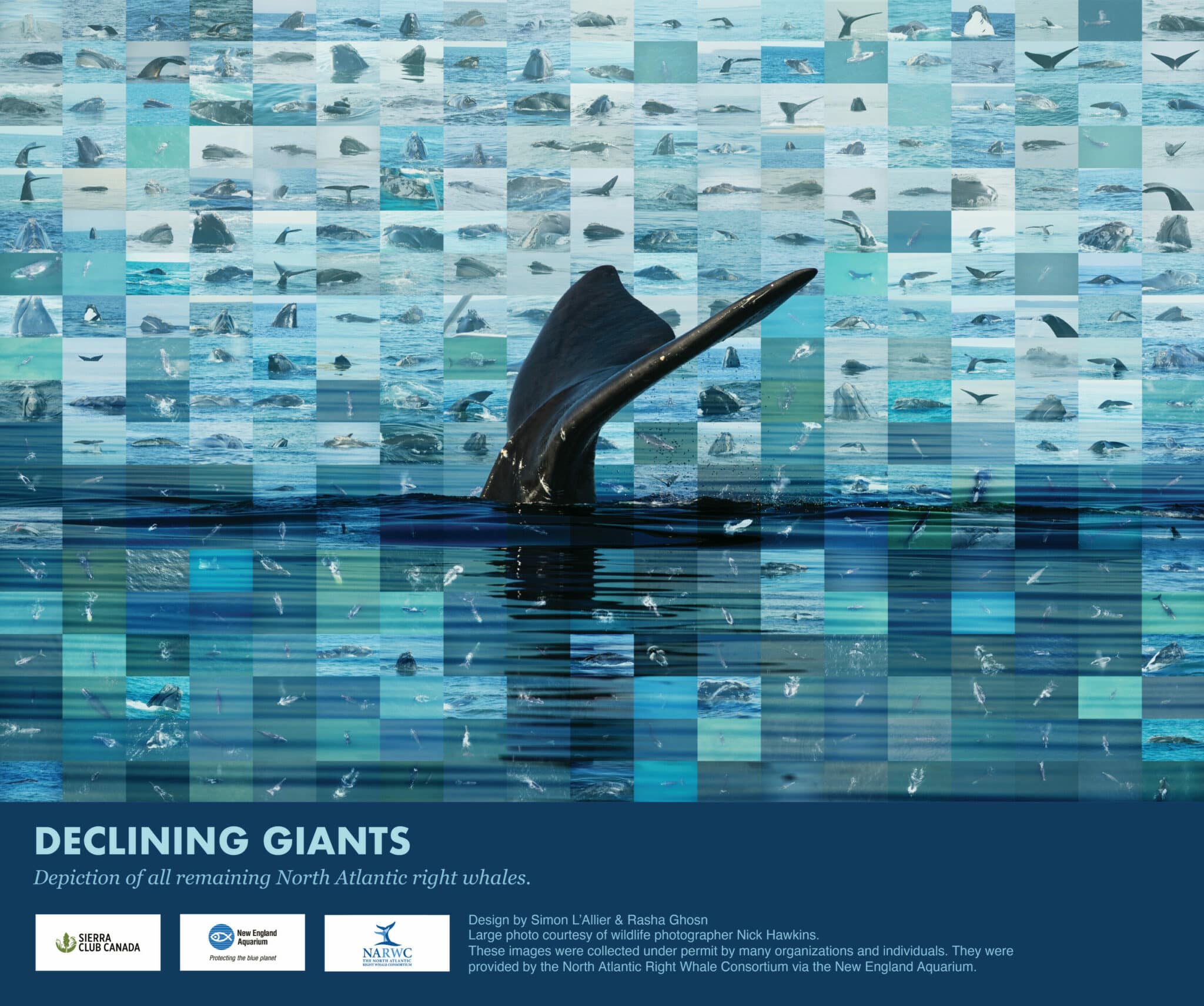 North Atlantic Right Whales – The Road Ahead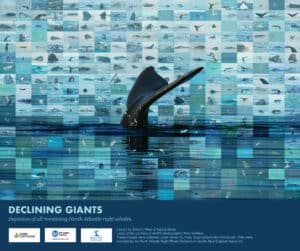 Mural of the last North Atlantic Right Whales by Simon L'Allier
You are looking at every North Atlantic right whale in existence, with roughly 350 remaining in the wild – all pictured here. Unfortunately, the numbers are always changing, often to the detriment of the species. Current population models estimate 336 whales to be remaining, however such estimates do not tell us which specific individuals are left.
This critically endangered whale is highly vulnerable to entanglements from fixed fishing gear and vessel strikes. These are and have been the leading causes of mortality for the species for years. But even sub-lethal impacts of these threats can have dramatic impacts on the species' recovery.
Researchers found that 83% of the critically endangered North Atlantic Right Whale (NARW) population showed evidence of at least one entanglement throughout their life, with 59% of those having been entangled more than once. Entanglements from fixed fishing gear have been identified as the primary cause of mortality in NARWs, driving the numbers down further each year and preventing this keystone species from recovering. While some have survived entanglements before, they can stay stuck for months on end and it remains the primary cause of mortality in the species. And if it doesn't kill them, it can have serious impacts on behavior, stress, health, and even reduce fecundity in females, further preventing the species' ability to recover. We need greater investment and rapid deployment of whalesafe gear if we want this species to survive.
In addition to entanglements, a high level of circulation in the Gulf of Saint-Lawrence and other regions can increase the risk of fatal collisions with ships, or lead to serious injuries. There are currently speed limits that must be respected in the region, and temporary area closures are rapidly put in place when a North Atlantic right whale is spotted. But recent research showed that whales entering in collisions with ships of all sizes, even at lower speeds, may succomb to fatal injuries. So while this may reduce the risks of collisions, it does not make them improbable.
Considering the ecological importance of the species and its increased presence in the GSL in recent years, it is critical to help the species recover from historic whaling and prevent its extinction, as it could have dramatic effects on the biological composition of the GSL. If these threats are not fully eliminated soon, it is very likely the North Atlantic right whale will become extinct on our watch.
If you are concerned with the future of the North Atlantic right whales and would like to know more about what is being done to reverse this trend, have a listen to our recent discussion panel on the topic! The recording can be found here.
Consider supporting our work to help the whales and ocean recover from human impacts and climate change by donating. You can also sign up to receive updates on this and other pressing issues on our home page so you can take action with us to help protect the whales and their habitat.
In relation to the collage at the top: The North Atlantic Right Whale Catalog (http://rwcatalog.neaq.org/#/) is the result of a tremendous collaborative effort of over 500 individuals and organizations. Data and images are the property of the individual photographic contributors to the Catalog and are copyrighted by the New England Aquarium with all rights reserved to those contributors. The images in this mosaic are not to be used without written copyright permission. To request use of data or images from the Catalog website, contact the North Atlantic Right Whale Consortium at https://www.narwc.org/ It is illegal to approach right whales within 500 yards in U.S. waters and within 100 meters in Canada without a scientific research permit. Images on this website that were collected under research permits granted by the National Marine Fisheries Service and the Department of Fisheries and Oceans.