Prairie Chapter Plants 600 Square Foot Garden, Walk Planned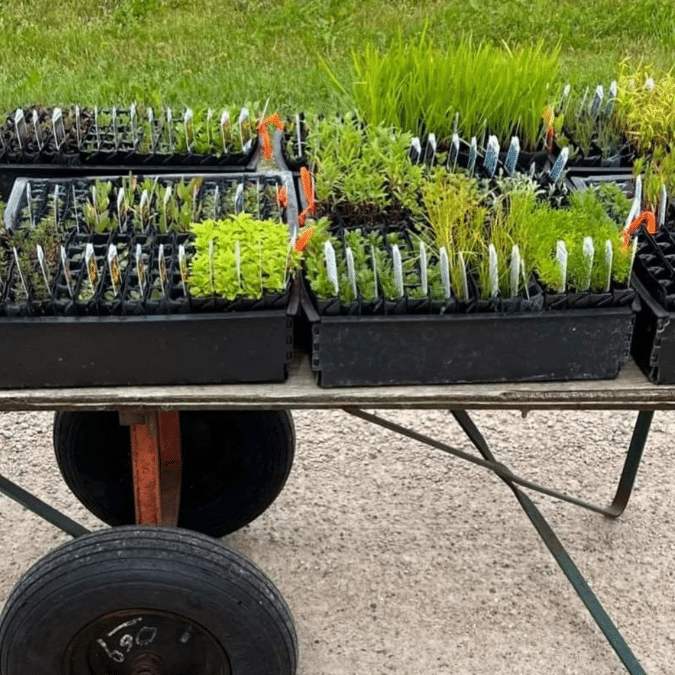 This summer, the Sierra Club Prairie Chapter planted a 600 square foot garden of wildflowers and grasses native to Manitoba in South Osborne, Winnipeg, thanks to TD Friends of the Environment funding. Fourteen volunteers, with the help of community groups, local partners and the City of Winnipeg city naturalists, came together to plant over 500 native species in a garden plot on Churchill Drive.
Native wildflowers play an important role in the urban ecosystem landscape. They are critical for food sources for native pollinators. Additionally, the timing of the blooms have evolved in the local climate to coincide with other native pollinators and animals that depend on them as a food source. Native wildflowers tend to have deeper root systems that promote carbon capture, and given their adaptation to the local soils and conditions, they require less watering and no chemical fertilizer input. These species are perennials and self-seed, meaning that the wildflower bed will return year after year in this location without needing to replace the plants after each season.
Furthermore, wildflowers beautify the community, engage volunteers to engage in an activity like gardening which is proven to improve mental health, as well as contribute to the local urban biodiversity. For years to come, this plant bed will be a hub for the neighbors and environmental stewards alike to learn and enjoy about native plants, their role in urban ecosystems, and their unique relationships with pollinators. We plan to host talks, community events at this site, as well as harvest the seed in the fall with the and distribute these seeds to local communities to plant next spring.
Don't miss our Edmonton Walk!
Please note: This event was canceled, we hope to reschedule it in the future.
For those of you in Edmonton, our Prairie Chapter is also organizing a walk led by Indigenous leader Dr. Darlene Auger on October 16 (2022), read her full bio here.
Come join us and learn about the teachings and importance of the water as we walk along the Kisiskatchewan, also known as the North Saskatchewan River.
If you know of someone in Edmonton who might like to join let them know!
You can register here. Please register by October 13! You will receive more information about the meeting location after your registration.
This article is part of our Fall 2022 newsletter, The Activist. You can find the full newsletter here.