Québec Chapter Fights Line 5 Oil Pipeline, Champions Conservation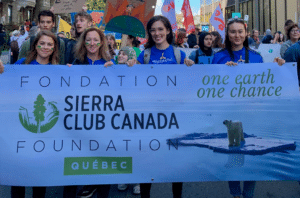 Sierra Club Québec's work to protect and restore the environment has covered a lot of ground, and the chapter is looking for volunteers! You can offer to volunteer by emailing volunteer@sierraclub.ca or become a member of Sierra Club Québec here.
Most recently the chapter participated in the mass climate rally in Montréal on the 23rd of September. Chapter members handed out pamphlets on their local work and on Line 5, a dangerous pipeline that transports oil from Western Canada, through a shortcut in the United States, to Québec.
Sierra Club Québec's Susan Read in collaboration with Sierra Club US's Tessine Murji have also written an op-ed in La Presse calling for resistance to Line 5. Indigenous governments and activists in the United States successfully secured a shutdown order in Michigan but due to pressure from the company, Enbridge, that owns Line 5 and the Canadian government the pipeline continues to operate.
For this year's Hiking Hero, Sierra Club Québec hosted a walk in Terrebonne to highlight local projects for the protection of migratory birds. The tour was an insightful chance to learn about avian conservation and see first hand the impact local areas can have in protecting biodiversity.
Chapter representatives were also on site to raise awareness of their work at this year's Gala De La Terre. The event was a symphonic performance of Mahler's third symphony by the Orchestre de l'Agora intended to promote humanitarian and ecological values, which fundraised $85,000 for the Sierra Club Canada Foundation and received an outstanding review in Le Devoir.
Finally the Québec chapter celebrated and acted on World Environment Day this year by collaborating on an event with the Milton-Parc Citizens Committee, SSMU, McGill University, and Les amis de la montagne. The event, at Lucia-Kowaluk Park in Montréal, included a community picnic, art, music, a conference, dance, activist literature, and much more.
Live in Québec and want to get involved? Volunteer today or become a member!
This article is part of our Fall 2022 newsletter, The Activist. You can find the full newsletter here.