Climate action and environmental justice work can often feel overwhelming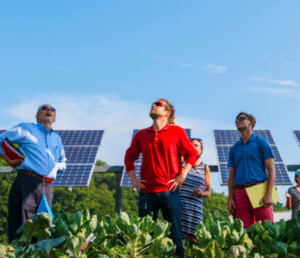 There is so much to be done and, frankly, time isn't on our side. That's why it's especially exciting to shine a light on what's working well.
Now in its second year, our Beyond Coal Atlantic campaign is focusing on the opportunities presented by local power—quite literally. In Atlantic Canada, municipally owned and operated power utilities (and commissions) are leaders in the transition to clean, renewable energies. They're also better than the big utilities when it comes to energy efficiency, affordability, grid reliability, and customer satisfaction. What's more, the revenue they generate goes back into their communities and supports local jobs and infrastructure.
Whether they're vocal about it or not, these municipal utilities are making it possible for ordinary citizens to participate in the energy decisions that affect their daily lives—and that can make a huge positive impact.
Today, municipally owned and operated utilities and cooperatives here in Atlantic Canada—and around the globe—are ushering in greater energy democracy, and along with it, reducing greenhouse gas emissions. They're benefiting their communities in other ways, too, such as bringing broadband internet to rural areas and building daycares and community facilities. Read about it here.
We know that decarbonizing electricity won't be fixed with technological solutions alone. It's going to require a greater shift toward energy democracy. That's why we're spearheading conversations not only about what's possible, but also what's being done successfully right now. Check out our Power to the People Campaign and keep an eye out for our upcoming webinars to learn more.
Want to get in touch? Contact us Atlantic@sierraclub.ca
This article is part of our Spring 2022 newsletter, The Activist. You can find the full newsletter here.