Don't miss the Sierra Youth Podcast, Season 2!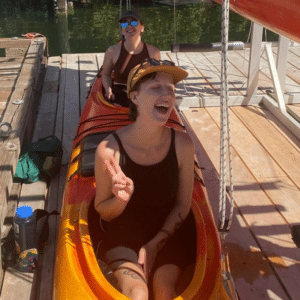 Season two of our Sierra Youth chapter's podcast is well underway with six brand new episodes out already. You can check out the full podcast on apple podcasts here, and make sure to listen to season one as well if you haven't already, which we talked about in the last edition of The Activist.
Episode one of season two opens with a discussion of the newly premiered documentary, Coextinction, with filmmakers Gloria Pancrazi and Elena Jean. The film examines the story of Southern Resident killer whales, why this species is so incredible, the importance of listening to Indigenous knowledge holders, and what needs to be done to achieve co-existence.
The second episode shares youth experiences with burnout, a topic with which many of us will feel familiar. As always the podcast focuses on more than just the problem at hand but examines how people can manage stress as well.
Next up is a discussion with Janelle Lapointe, an Afro-Indigenous climate justice and Indigenous rights activist from Stellat'en First Nation, currently working in communications for the David Suzuki Foundation as a guest on the lands of the Sḵwx̱wú7mesh (Squamish), Səl̓ílwətaʔ/Selilwitulh (Tsleil-Waututh), and xʷməθkʷəy̓əm (Musqueam) peoples. Episode three examines Janelle's journey to becoming a climate and Indigenous rights activist, events taking place on the West Coast with respect to the Wet'suwet'en peoples, the Coastal Gaslink Pipeline, and the 'national myths' that surround perceptions of so-called 'Canada.'
Episode four is a conversation with linguist and anthropologist Dr. Luisa Maffi about the concept of biocultural diversity. In 1995, Dr. Luisa Maffi and David Harmon explored the idea of how cultural diversity, language diversity, and biodiversity are all interconnected; the idea being that if we were to lose a culture or language then we would see the negative effects in our biodiversity as well. Ultimately, this understanding led Dr. Luisa Maffi, David Harmon and some team members to create Terralingua – an international non-profit dedicated to sustaining the diversity of life in nature and culture.
The Ugly Truth of Outdoor Recreation and Resort Development, the fifth episode, looks at how wilderness attractions can result in many negative and long lasting effects on wildlife and Indigenous communities. The podcast episode focuses on the Kootenay Boundary region where a proposal for a ski resort has been gaining government approval despite warnings from locals on how this resort will negatively impact the wildlife living on the land.
Finally, episode six features Myia Antone – a proud youth from Squamish nation. Myia is a teacher of the Skwxwú7mesh language, the founder of Indigenous Women Outdoors, and also a wicked mountain biker, skier, and paddler. Together the hosts and guest discuss the evolution of outdoor recreation in Squamish and beyond. They touch on how colonialism and climate change have affected the spaces that have been stewarded by Myia's ancestors since time out of mind. They also explore the role of language and culture in revitalising these lands, and how non-Indigenous folks can help share the load of radical change.
There's lots more of season two to come and this is only the beginning for the Sierra Youth Podcast! Stay tuned!
This article is part of our Spring 2022 newsletter, The Activist. You can find the full newsletter here.