Fighting back for independent journalism
By Conor Curtis, Head of Communications, Sierra Club Canada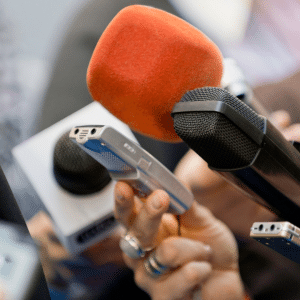 You've probably heard that Meta (Facebook and Instagram) and Google are going to be blocking access for Canadians to Canadian journalism.
I cannot express enough why this ban on Canadian journalism is incredibly dangerous. In a world where disinformation is rampant, journalism and journalists are one of the few forces that ensure we can access reliable information. As we confront climate change, biodiversity loss, and pollution we need that reliable information more than ever. Scientific subjects like these are not easy to communicate in ways we can all access and as we see too often the truth can be far easier to distort than to seek out.
Larger news platforms will be hit hard by Meta and Google's actions but independent news outlets that often rely on digital platforms to reach their readers are on the front line of these challenges. As a supporter of Sierra Club Canada you may have noticed we frequently feature news coverage of environmental issues in these emails. That's because we believe in the role of journalism in confronting environmental issues.
Since you won't be able to access these new sources on Meta and Google's platforms anymore, we're writing to you today to encourage you to seek out and subscribe to Canadian news outlets that cover environmental issues.
Because we know that independent journalism will be hit hardest by these policies, we have included a list below of just a few of the independent outlets to which many of our staff subscribe.
We encourage you to subscribe too. While the opinions expressed in these outlets may not always be the same as ours at Sierra Club Canada, the fundamental importance of a free press is paramount.
This is by no means an exhaustive list but it's a start and one we hope to add to in the future. We encourage you to subscribe to other reliable publications as well, both mainstream and independent, and to local news outlets and newspapers in your area.
The National Observer
"Canada's National Observer (CNO) publishes investigative reporting, in-depth analysis, solutions journalism, multimedia features, opinion and daily news coverage…. We have a special focus on how governments and industry make decisions as well as the factors that influence their policies."
The Energy Mix
"The Energy Mix is a community news site and e-digest on climate change, energy, and the shift off carbon. It's published by Energy Mix Productions Inc., a Canadian non-profit headquartered on unceded Algonquin Anishnaabe territory, also known as Ottawa."
The Independent NL
"The Independent is Newfoundland and Labrador's premiere outlet for progressive ideas and dialogue, and we do it without the corporate funding that other media outlets depend on."
Sign up on the form on the main page or at the bottom of the website.
APTN News
"…reporters in bureaus located across the country report on stories that focus on the political and social conversations either ignored, under-reported or misunderstood by mainstream news media, all the while providing award-winning and unprecedented perspectives of news for Indigenous Peoples and all Canadians."
You can subscribe to updates via the bar at the top of the website.
The Halifax Examiner
"The Halifax Examiner is an independent, adversarial news site devoted to holding the powerful accountable."
Le Devoir
"…is committed to defending ideas and causes that will ensure the political, economic, cultural and social advancement of Quebec society"
La Presse
"La Presse is an independent digital media whose mission is to provide quality information, free and accessible to all."
The Narwhal
"Our team of investigative journalists dives deep to tell stories about the natural world in Canada you can't find anywhere else. We have just two rules: 1) Follow the facts. 2) Tell it like it is."
The Tyee
"We're an independent, online news magazine from B.C. founded in 2003. We're devoted to fact-driven stories, reporting and analysis that informs and enlivens our democratic conversation."
The Breach
"…an independent media outlet producing critical journalism to help map a just, viable future."