Sierra Club Canada Launches New Website and Media Resources to Amplify Environmental Advocacy

Accessibility and environmental protection at the heart of the new website
Media Release, For Immediate Release: Monday, June 12, 2023
The Sierra Club Canada Foundation is excited to announce the launch of our new website, available at www.sierraclub.ca, and a new set of logos for our national organization and chapters.
Thanks to our collaboration with Mangrove Web Development, the new website focuses on improved visual and digital accessibility. The website follows Level AA of the Web Content Accessibility Guidelines 2.2.
"The website is designed to be both accessible and environmentally friendly by reducing its digital impact on the environment," says Conor Curtis, Head of Communications with Sierra Club Canada. "It's also designed to be more accessible in rural areas where internet connections are less reliable and where Sierra Club Canada does a great deal of our grassroots work."
You can find out more about the work that went into the website in these respects in a new special podcast which we have produced for the website launch here: https://www.sierraclub.ca/sierra-club-canadas-new-website-our-bonsai-tree-special-podcast/
Sierra Club Canada will continue to work to produce accessible web content for people with accessibility issues, as well as foster a user-friendly experience for everyone. We are grateful for the chance to have worked with like-minded professionals at Mangrove on this project.
"A lot needs to improve regarding digital accessibility in Canada and worldwide," states Mangrove's creative director Andrew Boardman. "Having a progressive and influential organization like Sierra Club Canada prioritize accessibility for their new website will inspire others to follow suit."
As the digital space continues to rapidly evolve, Sierra Club Canada recognizes the importance of having a cognizable digital presence. With the new website, Sierra Club Canada aims to better amplify environmental advocacy efforts across Canada by forming strong networks between members, volunteers, advocates, and decision-makers.
The launch of our new logo reflects the evolution of the Sierra Club Canada over time while still being rooted in our longstanding commitment to environmental advocacy and stewardship.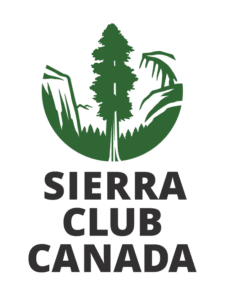 Images: The new Sierra Club Canada Foundation logo (vertical), with the new horizontal logo shown at the top of the release. Chapter logos also have the chapter name under the main logo.
Moving forwards, Sierra Club Canada will continue to share our media releases and other media resources on significant environmental events at the Media Releases page on our website: https://www.sierraclub.ca/category/media-releases/
We are also happy to take interviews or provide commentary on the new website as well.
-30-
For interviews and more information please contact: Media@sierraclub.ca
An important note on referencing the Sierra Club Canada Foundation: There are three distinct Sierra Clubs: Sierra Club (in the United States), Sierra Club BC (in British Columbia), and Sierra Club Canada Foundation (operating nationally in Canada). While we often work together, these organizations are all separate legal entities. To be accurate, you should refer to our organization in articles or other coverage using the title "Sierra Club Canada" or "Sierra Club Canada Foundation." Our organization, the Sierra Club Canada Foundation, also contains five chapters: Sierra Club Ontario, Sierra Club Québec, Sierra Club Atlantic Canada, Sierra Club Prairie, and Sierra Youth (which is nationwide).