Why we need better regulations for HVAC systems in apartments
By Iain Page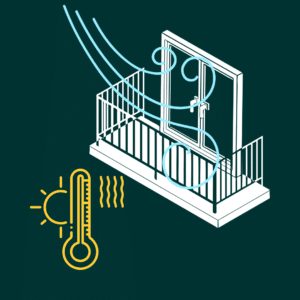 I moved into a 1-bedroom apartment on November 28th. It is a nice apartment, but it has one major problem. It stayed around 26C until they finally turned off the heat on May 15th.
I never turned on the heat. After that it has been between 18C-20C. I like it fine, but I am sure some of the tenants are using electric heaters.
The halls are now very cold. During May prior to the switch over to cooling the temperature stayed around 28C. I did not measure the temperature of the hallway, but it was noticeably hotter than my apartment.
I discussed the issue with many of my fellow tenants and most of them agreed that it was too hot.
The stop gap solution
I opened the balcony door and bedroom window. This sometimes worked well but sometimes had a less than 1C drop in temperature.
It was not possible to open the balcony door on very windy days as everything would blow around. It was also much noisier to open the door and window. I live on a busy street and trucks and sirens are quite annoying. Also, can you imagine how much energy is wasted when everyone chooses this solution. In my case it is centrally heated with natural gas.
The solution
In some the buildings the problem is systemic. The heating and cooling systems were badly designed and are difficult to control. Build code should prevent this but doesn't usually address these issues. Having said that, variable speed venting and a little additional duct work where necessary could help a great deal at a very reasonable cost.
The other problem is just plain mismanagement of the HVAC (heating ventilation air conditioning) system. Because energy costs represent a very small part of the total revenue it is often simply ignored. Additional costs for energy are also simply passed on to the renter.
We should have regulations which force better management of resources and prevent halls and common areas from being a sauna when heating system is engaged and like a refrigerator when the cooling systems are engaged.