Indigenous led walks in Edmonton this August with Sierra Club Prairie
Our Prairie Chapter will host a series of 1-2 hour walks through the nature areas of Edmonton (such as the River Valley or Mill Creek Ravine) sponsored by the Alberta Ecotrust. These will be Indigenous led walks. We will be taking stops for conversations about the land and history, and even stories and poems will be shared.
There will be three walks this summer (Saturday August 5th, 19th, and 26th) with some amazing hosts. Each walk will be led by a different host and be at a different location in Edmonton.
Since spots are limited, we may not be able to accommodate everyone and so we suggest registering sooner rather than later.
Below you will find both the details of the hosts, the date, time and location of the walk, and the registration links to each of them.
River Ramble – August 5th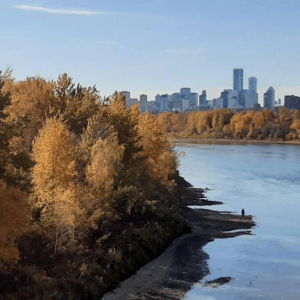 Led by: Naomi Mcilwraith, Indigenous Narrative Supervisor at Indigenous Peoples Experience.
Naomi McIlwraith hails from amiskwacî-wâskahikan, Plains Cree for Beaver Mountain House, also known as Edmonton. In all that she does, Naomi honours her parents, Lavona and Mowat McIlwraith, her four grandparents, Lucabelle and James Meakes, and Davida and Charles McIlwraith. As a Cree – Ojibwe – Métis writer, Naomi is grateful for her education and pledges to use it to build a more peaceful world.
Born and raised here, she has wandered near and far but always manages to find her way back to her home on Treaty Six land. A teacher, a talker, a poet, and a peacemaker, she now works as an Indigenous Interpreter, Supervisor,
Researcher, and Writer at the new Indigenous People's Experience at Fort Edmonton Park over there by that wee bend in the North Saskatchewan River just upstream of the Quesnel Bridge. She is totally honoured to spend a while with you walking along the Mighty North Saskatchewan River near that same wee bend just upstream of the Quesnel Bridge!
Time: 9:00am to 11:00am
Location: North Saskatchewan River Valley, around Fort Edmonton Park, near the Quesnell Bridge.
Ancient and Recent Edmonton – August 19th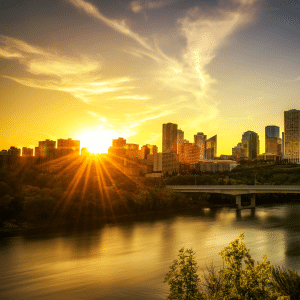 Led by: Dr. Dwayne Donald, University of Alberta Education Professor and Canada Research Chair. More information at the registration page!
Time: 10:00am to 12:00pm
Location: North Saskatchewan River, upstream of the Quesnel Bridge near Fort Edmonton Park.
Through the Trees with Chickadee – August 26th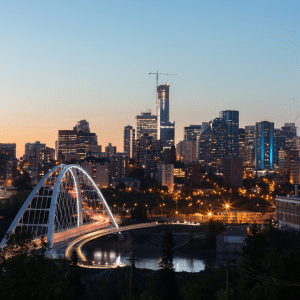 Led by: Krista Leddy, Local Artist and Educator
Krista Leddy is a proud Métis woman whose family comes from the historical Métis communities of St. Albert and Lac St. Anne. She currently calls amiskwaciywâskahikan (Edmonton) home. She is an internationally known artist who uses stories embodied within the plants, animals, land, and water to guide the work she create
Krista has a passion to share what she knows about the world around her to anyone with an open spirit and mind.
Time: 10:00am to 12:00pm
Location: Mill Creek Ravine North (North of the Near the Mill Creek Pool)
You are more than welcome to register for multiple walks, however, as there will be 30 to 50 participants per walk, we do want as many different people to have a chance to go on these. There is a section in the registration to list the walk you would like to have priority for. If there ends up being room in one of the additional walks, we will consider you for that one too!
Have questions? Here are some answers:
Q: Are Children allowed?
A: While children are permitted, they must be accompanied by an adult at all times. This walk will consist of potentially going through different terrains (such as paths, forests, etc.) with stops in which the hosts will talk or hold discussions. As long as any children are able to handle the time length of the walk, and being respectful towards the land, our host, and any other participants, then they are more than welcome to join us on this walk!
Q: Is it free?
A: It is free!
Q: Should we bring anything?
A: Having water and a snack is a great idea! Along with clothes that will be appropriate for the weather
We hope to see you this summer!
P.S. Want to do more to support the work of the Prairie Chapter like these walks? If you haven't already consider becoming a member of Sierra Club Canada's Prairie Chapter. By becoming a member you'll also gain access to resources that can help you in your work to protect our environment.